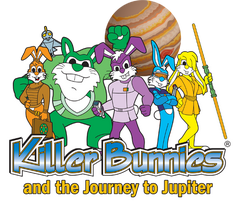 "Killer Bunnies and the Journey to Jupiter," or J2J to its fans, is the second of three Killer Bunnies games designed by Jeffrey Neil Bellinger and published by Playroom Entertainment. It is a non-collectible game, featuring many of the of the game mechanics found in Killer Bunnies and the Quest for the Magic Carrot. However, it adds the dynamic of a board to the game.The Solar Yellow Booster Deck comes with the Deep Blue starter deck. A Laser Red Booster has been released. Plans to release the Ultra Violet, Orange, and Green Booster Decks in 2012 never materialized.
The game is expandable by adding booster decks. Generally the first booster deck (yellow) is included when purchasing the blue starter deck. Some cards reference cards in future booster decks. It is recommended to add the booster decks in order but not required. However, decks are built with many cards that play off cards introduced in earlier decks, so you may find some cards unplayable should you choose to buy them out of order.
Community content is available under
CC-BY-SA
unless otherwise noted.